A Vested Interest in Excellence in IT Training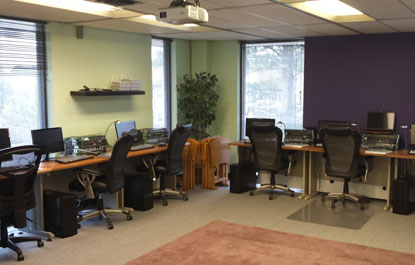 Founded in 2002, ITdojo takes a different approach to IT training. Put simply: we believe in learning by doing.  Year after year stories are recounted to us about IT training being little more than "Death by PowerPoint" coupled with instructors teaching the test rather than the material.  If passing an exam is on your agenda, great!  We can help you with that.  But our primary focus always has and always will be to help clients to learn the material in a way that is going to make them better at their job.  Our team uses other means of knowledge transference, ones that add value to the experience, ones that prepare your staff not only for exams and certification, but also for the real world. By immersing our clients in intensive, hands-on training we are confident that they will gather the knowledge needed to succeed.
Our team members come to you as established, highly experienced networking and information security professionals whose IT skills are rivaled only by their affinity for presenting complex material in an engaging and readily understandable way.  We have dynamic, innovative facilitators with the ability to illustrate concepts using real-world examples, vivid analogy and personal anecdotes. The quality of training provided by ITdojo is the single most important aspect of our business and each member of our team has a vested interest in making sure that you and the members of your team get the skills and information needed to be successful.  The commitment we have to our clients is personal. We are strong believers that our success depends on theirs. Because of this, our instruction staff is here for you and your team before, during and after class.
We work exclusively with the government (federal, state and local) and the contractors that support them.  Scores of these organizations rely on ITdojo alone to provide their personnel with the skills needed to succeed.  Click here to check out some testimonials. Complementing our instructor-led training here in Virginia Beach, we also offer our clients access to Live Remote Training as well as bringing instructors on-site to our clients' facilities.  There is no substitute for instructor-led training but if learning at your own pace works for you we can help with that, too.  We offer a full-complement of self-paced training options through partnerships with other training organizations.
We're serious about what we do.
We are serious about helping you fortify your information systems.  As professional trainers and experienced consultants we are focused on helping you achieve your goals in a way that is relevant and applicable to your environment. Our technical offerings are hands-on with live equipment.   The closer your learning experience is to the real-world, the more valuable and useful your end-result will be.  You are invited to stop by and check out our lab environment. We are near all the major military installations in Hampton Roads and are less than 45 minutes from Williamsburg. Travel time from Newport News, Hampton, Chesapeake, Suffolk, Portsmouth, and Norfolk is less than 30 minutes from even the farthest points.
What else can you expect when you attend IT training at IT Dojo?
Small class sizes.  Small is good.  Our exceptional instruction staff is available to each participant before, during and after class to deliver personalized attention.  We all come to class with different levels of knowledge and we progress at different rates.  By keeping our seminar sizes as small as possible we are able to guarantee that you and your staff get the focused attention needed to be successful.  Big seminars turn into lectures with little opportunity for questions and deep exploration of the technology.  We want you to be able to ask questions and truly learn from your trainer.
Equipment, equipment and even more equipment.  Unlike many training providers we invest considerable sums of money in hardware to ensure that each participant has as much hands-on experience as possible.  Our competitors either don't have the equipment or require your staff to double (or triple) up with other participants.  Watching other people work with equipment isn't a good way to learn.  In order to really learn you have to do it yourself!  That's our philosophy and our commitment to you!
Instructor Led Training
In an instructor led seminar, you either come to our facility (or one of our partner facilities) or we bring the training on the road to you wherever you may be!  There really is no substitute for instructor led training.
Live Remote Training
Save time and money on hotel and travel expenses through live Instructor led training online. From the comfort of your office or home, busy professionals can get the training they need without the added expense through ITdojo's live online learning solutions. Our live online training combines premium skills development technologies and our industry-leading instructors, content, exercises, and peer interactions to ensure a superior training session, regardless of your location.  It's like you are actually there!
Payment Options for Regularly Scheduled Training
Credit card – Visa, MasterCard and American Express
SF182 – government entities may submit an SF182 for invoicing after completion of training
PO – purchase orders are accepted from government and major corporate entities